OnStar Remote Control Woes
In what can only be described as extremely frustrating, users are frequently reporting that the remote control features through the myChevy app stop working after the free trial period. Users are repeatedly told by OnStar that they must pay for simple things like checking the state of charge of the car, or precondition or lock or unlock.
Although we have been repeatedly reassured by GM, including by bills of sale, OnStar refuses to listen until we escalate to supervisors and mention the magic words:
EV Mobile Command Package
This is the free package that all Bolt owners get for 5 years. Just tell the supervisor to add that to your account, and you should have the package free of charge. We have had many users get success with this.
This has also been confirmed by Chevrolet themselves on facebook: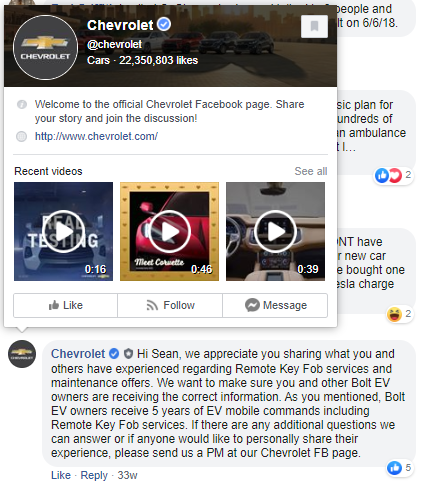 Despite bringing this up to GM and Chevy several times, and this being confirmed more than half a year ago, OnStar is still continuing to intentionally try to convince people to pay for things that they don't need to.