Chevy Bolt Battery Calibration Data
Chevrolet Bolt EV N2.2 Cell Battery Data
Here's the calibration data for the N2.2 cells that are used in the newer batteries for the Chevrolet Bolt EV. Since the fire recall and battery replacements, all Bolts at this point should have this battery pack and thus have the same calibration data.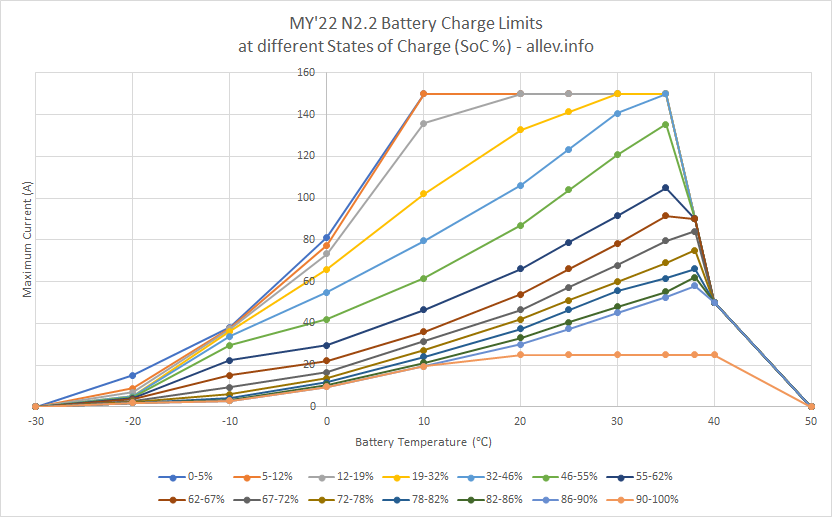 Another way of looking at it, at various temperatures: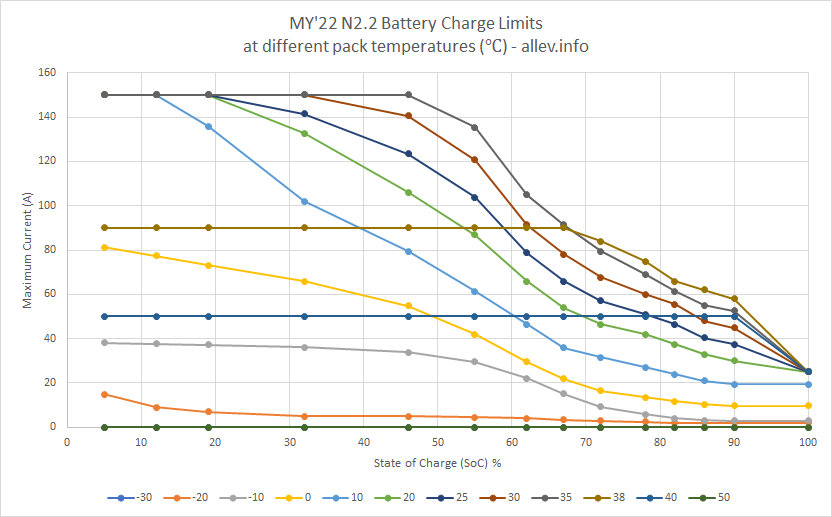 Here's a rough translation to Power (kW) – note that the anecdotal evidence seems to indicate that the temperature limits are lower than the calibration data, as we do see ~56kW with a pack below 35℃.
Expected Capacity and Loss
Note that the calibration tables starts at a capacity of 63.7kWh, which matches the 64kWh that the battery is marked at.
It's "expected" to lose about 1.3% capacity every 15,000 miles.
| | | | |
| --- | --- | --- | --- |
| Odometer (mi) | Odometer (km) | Expected Capacity (kWh) | Expected Loss % |
| 0 | 0 | 63.7 | 0% |
| 15000 | 24140 | 63.7 | 0% |
| 30000 | 48280 | 61.56 | 3% |
| 45000 | 72420 | 61.43 | 4% |
| 60000 | 96561 | 60.29 | 5% |
| 75000 | 120701 | 60.16 | 6% |
| 90000 | 144841 | 59.03 | 7% |
| 105000 | 168981 | 58.89 | 8% |
| 120000 | 193121 | 57.76 | 9% |
| 135000 | 217261 | 56.62 | 11% |
| 150000 | 241402 | 55.48 | 13% |
| 165000 | 265542 | 54.36 | 15% |
| 180000 | 289682 | 53.22 | 16% |
| 195000 | 313822 | 52.08 | 18% |
| 210000 | 337962 | 50.95 | 20% |
| 225000 | 362102 | 49.81 | 22% |