Will GM Give 2017-2019 Bolts The 2020 DCFC Updates?
It's the question on every owner's mind – the 2020 model has some impressive new charging, including much faster cold weather charging, and a gradual natural taper curve instead of the artificial stair-step design that they had before (Take a detailed look here).
I have long said that GM just doesn't care enough to offer updates to older models. It's not in their mindset, it's not in their mantra. You want the better options? Buy a new car. That's Big Auto's MO.
Lucky owner Stephen Connick reported this to me just now. Well, I will be happy to admit in this case, I was wrong. (HA! Take that, Betteridge!)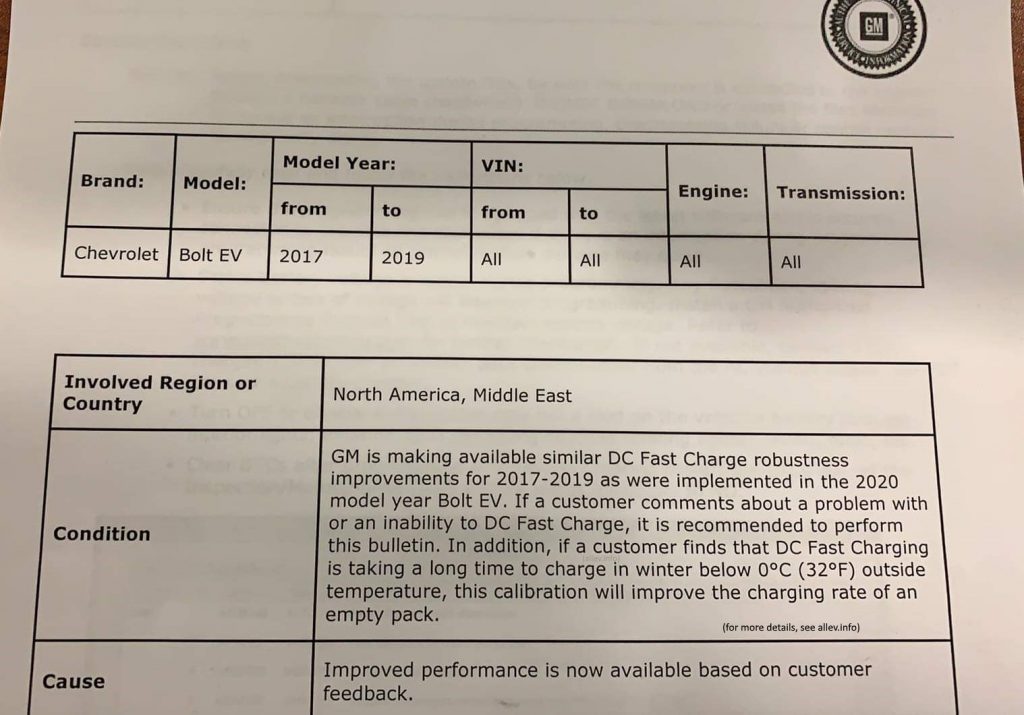 Now, before we bust out the champagne and take to the streets and party, we don't know exactly what this includes. But we do know that the biggest and most annoying thing for us northern drivers looks like it has been fixed. We do know that the 2020 model charges much faster when cold, instead of severely throttling the charge like the 2017-2019 years do. It will get up to full speed within a few minutes, as opposed to 20-40 minutes as before. This not only saves us time, but also a lot of money because we typically pay by the minute at fast charging stations.
What's even more surprising is the reason. I have to say that I'm shocked that they did this just because of our feedback. I really do have to think that GM is getting a lot more serious about competing with Tesla, a lot more serious about EVs, and a lot more serious about updates to older models now. Bravo GM, and way to earn back brownie points!
If you have received this update, please comment below or reach out to me directly (best place is the 10k+ member Chevy Bolt EV Owners group on Facebook). I would love to investigate exactly what older models get. I will also head over to my dealership ASAP to get this.
Now I've been told by various readers who have contacted their dealerships that the reaction is mixed. Some are finding it and scheduling a service appointment for free no problem, and others seem to not be able to find it at all. This should be applied under the Hybrid/EV Powertrain Warranty (100,000mi / 160,000km / 8yr) for free, and the dealer only gets 0.5hr of pay for it, as per the above bulletin.
Furthermore, unfortunately you can't OTA this. I have been told by an EV tech that the only modules that can update OTA are the OnStar module and the Infotainment module. All other car modules must be updated at the dealership.
I will follow up with GM and my dealership and see what the process is for getting this rolled out to ensure that nobody has a problem. I image that they're not going to want every driver to update immediately, so let's see what sort of roll-out schedule they have available.
~~ Drive Safe!